Looking for the most interesting markets in Amsterdam? Check out this list and find an interactive map at the end!
When I travel to a new place, I always make sure to visit some local markets to get a feeling of the local life (when I'm lucky enough to find a non-touristy market) and sometimes to grab a bite.
Who am I trying to trick? I always grab a bite at local markets!
There is a bunch of good street markets in Amsterdam where you can not only find delicious Dutch foods but also get to see a little more of the local culture, from Asian markets to flower markets and beyond.
In this post, I'll talk about all sorts of markets in Amsterdam. At the end of this post, you'll find a map with all the locations mentioned below. Let's get to them!
Amsterdam Market Tips
Quick and useful tips for visiting these markets in Amsterdam:
Don't forget to bring cash;

Beware of pickpockets;

Always a bag with you to put the stuff you buy;

Always check the weather in advance if you are headed to an outdoor market;

Some of these spots are in the most

beautiful streets in Amsterdam

. Bring your camera!
10 Best Street Markets in Amsterdam
Here are my favorite markets to visit in no particular order. If you're looking for things to do in Amsterdam, you'll love these places!
1. Foodhallen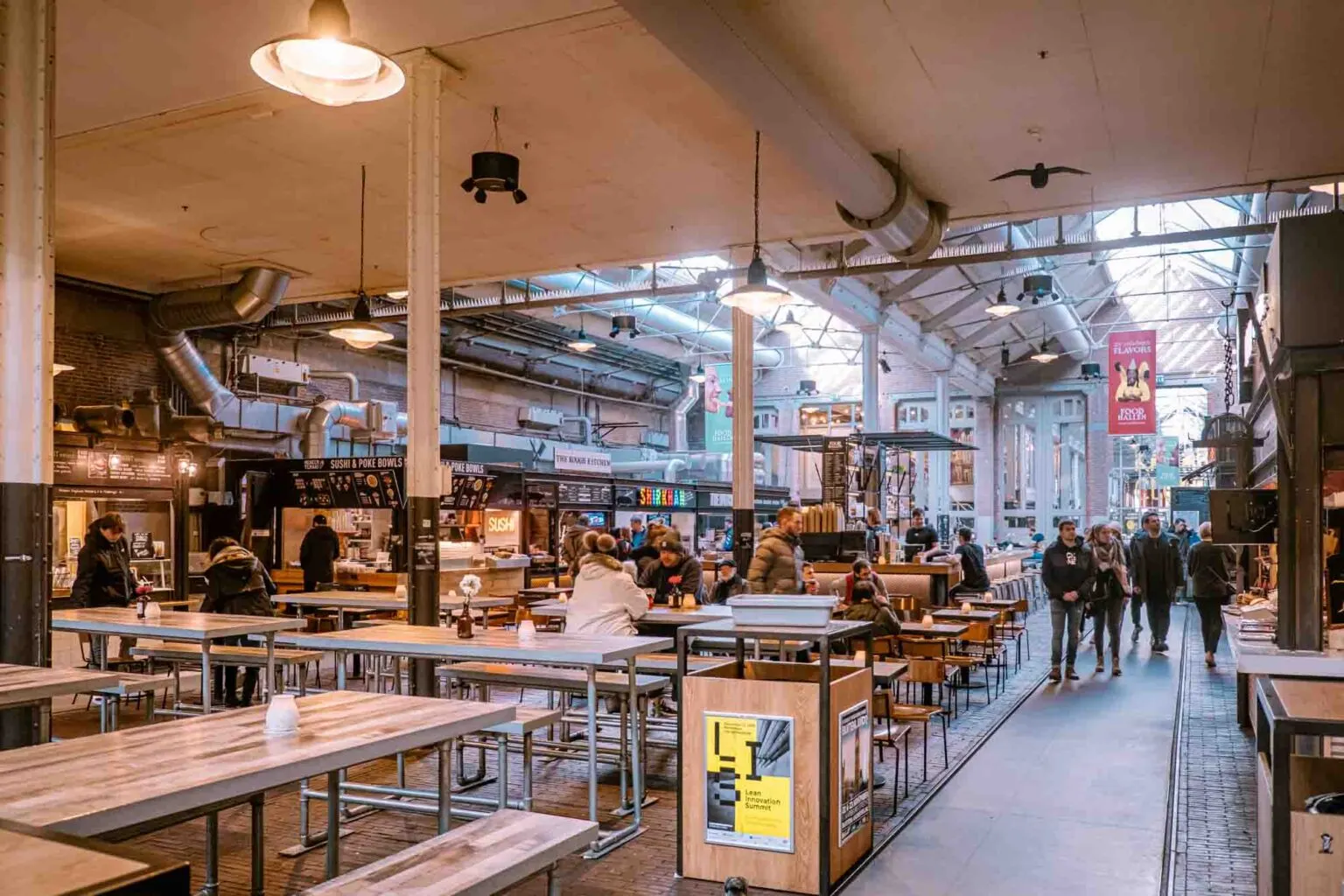 Foodhallen – fokke baarssen / Shutterstock.com
The name is self-explanatory, but I'll give you a tip: at Foodhallen, you'll find the most mouthwatering food you could dream of!
Seriously, there is a whole range of vendors selling food from all over the world, not only Dutch snacks. By the way, I said street markets in the introduction but this one is actually indoor.
The Foodhallen is unique because they sell a range of high-end street food. Not only that but it is the first indoor food market in Amsterdam, which has an amazing concept and over 20 street food stalls.
So, lots of variety, nice vibes, live music…in other words, a must-see!
2. Albert Cuyp Market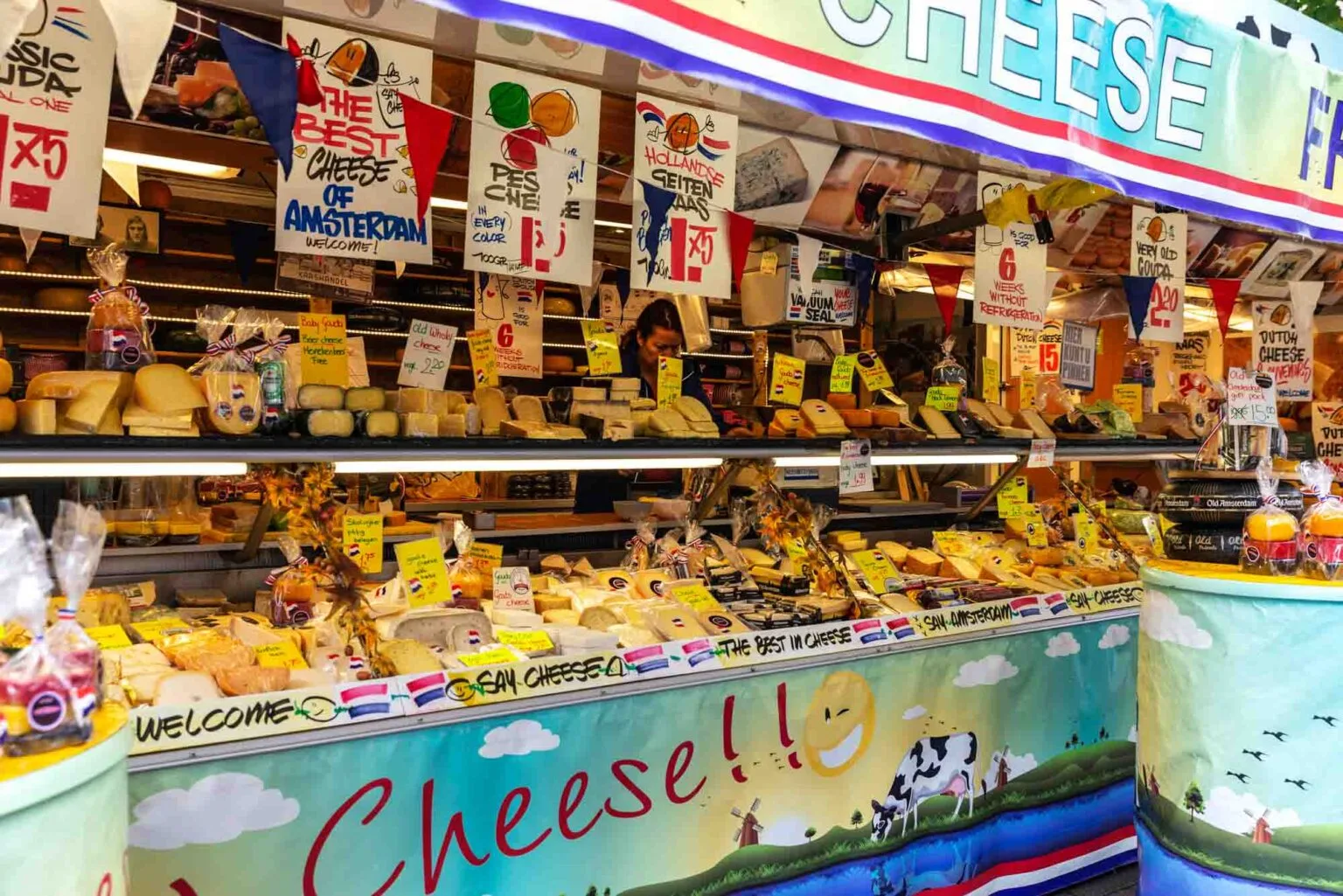 Here you can find anything you imagine. Fresh fruits and vegetables, fabrics, clothing, flowers, and some good.
Oh, almost forgot! There are stalls that sell the traditional raw herring as well as freshly made stroopwafels.
These are traditional Dutch bites and desserts that you must try at least once. Don't forget to bring cash with you.
Fancy a fun fact? Albert Cuyp is the largest street market in Europe.
3. Sunday Market – Westergasfabriek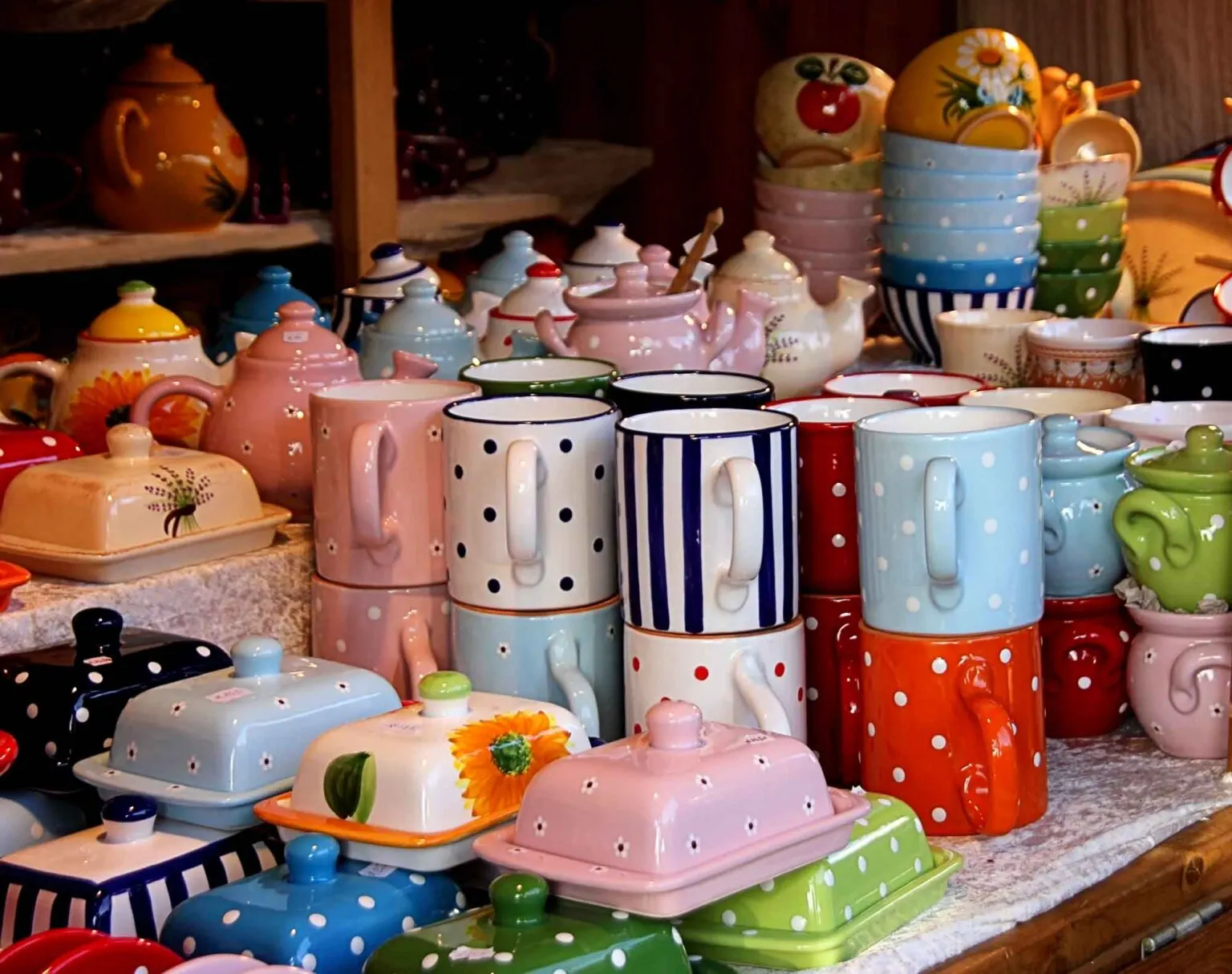 At the Sunday Market, you can find fashion accessories, clothes, design items, art, handmade products, food, and toys.
The atmosphere is excellent and you'll notice this market is pretty different from the IJ-Hallen market I'll mention below.
The Sunday Market is pretty alternative, but it doesn't have all that old stuff from flea markets. Oh, no! Things here are handmade and the place looks fairly organized.
4. IJ-Hallen Flea Market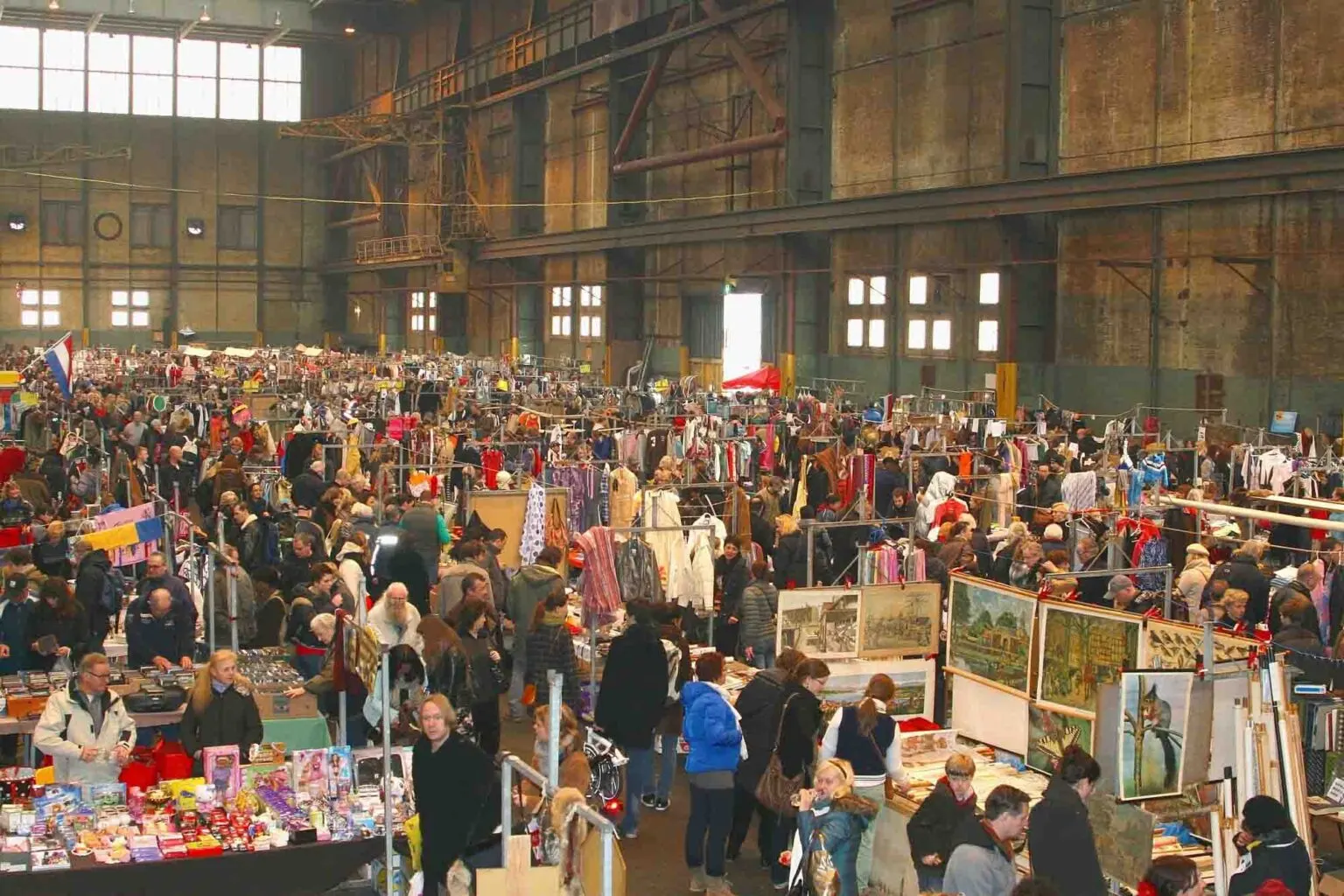 IJ-Hallen is the biggest flea market in Amsterdam – ingehogenbijl / Shutterstock.com
One of Europe's largest flea market, IJ-Hallen is massive and has around 400 stalls of goods, antiques, worn clothes and shoes, toys, canvases, literally everything.
Just like the Foodhallen, the IJ-Hallen is also an indoor market, but here they charge the entrance, €5 for adults, €2 for kids, and €9 for those who want to get in very early in the morning–the early bird catches the worm.
Location-wise, the market is inside a big warehouse in Amsterdam North. To get there, you have to take the free ferry behind the Central Station towards NDSM.
Pro tip: for the best buys, get there early, for cheap stuff, go on Sunday afternoon.
5. Flower Market in Amsterdam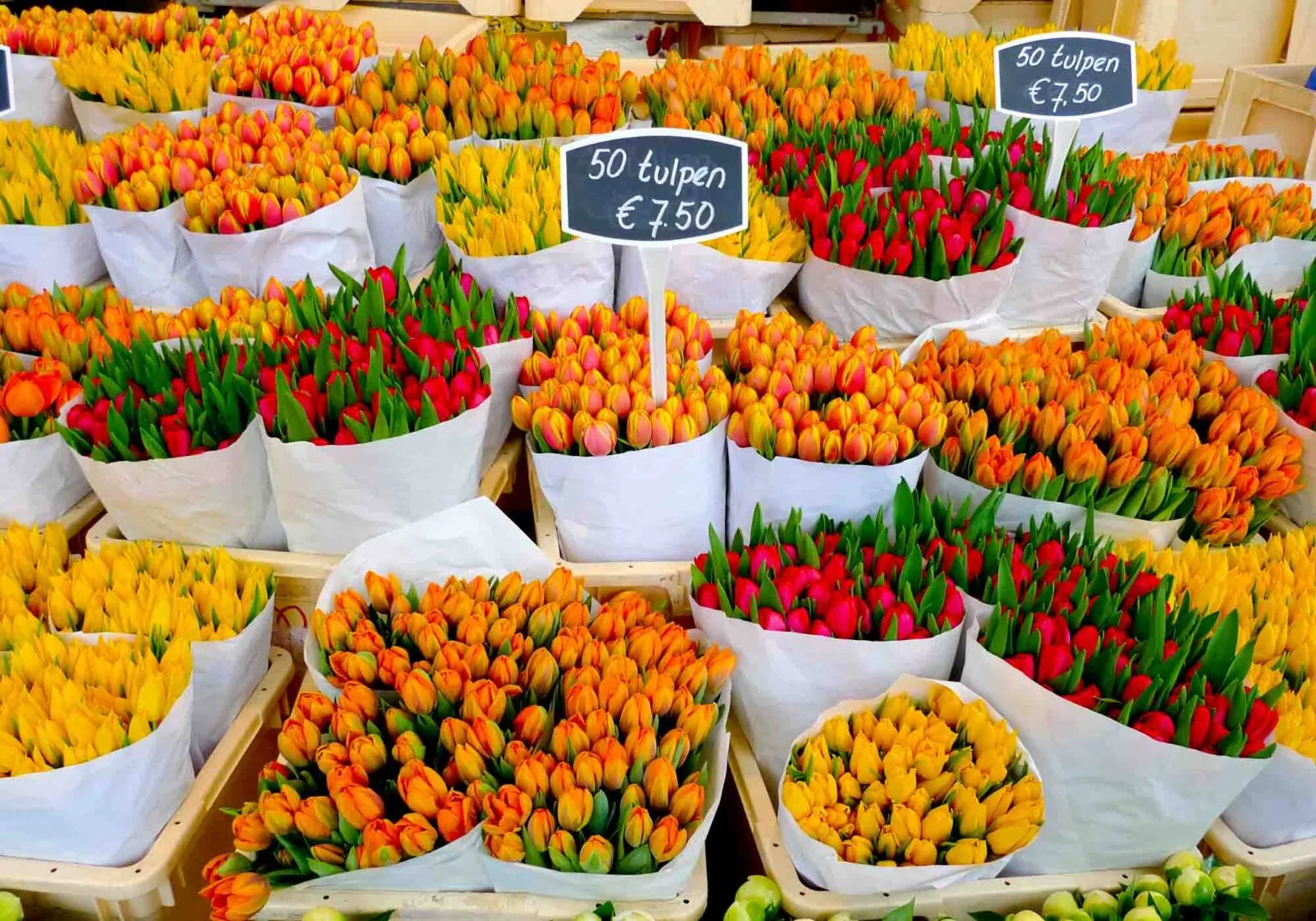 Bloemenmarkt in the famous flower market in Amsterdam
The Netherlands is famous for its colorful tulip fields bloomy streets. After all, this tiny land is not only one of the biggest exporters of flowers but it also has one of the world's largest flower gardens, the Keukenhof Gardens.
With so much floral influence in its economy and culture, it doesn't come as a surprise you can visit a flower market in Amsterdam.
Stroll through the world's only floating market (the stalls stand on houseboats) right in the heart of the city.
At the Bloemenmarkt, you can buy a bulb, a single flower, or the whole bouquet. Don't worry, the bulbs are ready to export, so you can easily take them home with you.
Besides, the vendors sell a number of souvenirs that you can take back home.
If you don't feel like buying a bulb, or your country's laws don't allow it for whatever reason, check out their other souvenirs. They sell wooden tulips, clogs, and other Dutch symbols.
Pssst: During winter you will only see Christmas Trees, instead of tulips.
6. Pure Market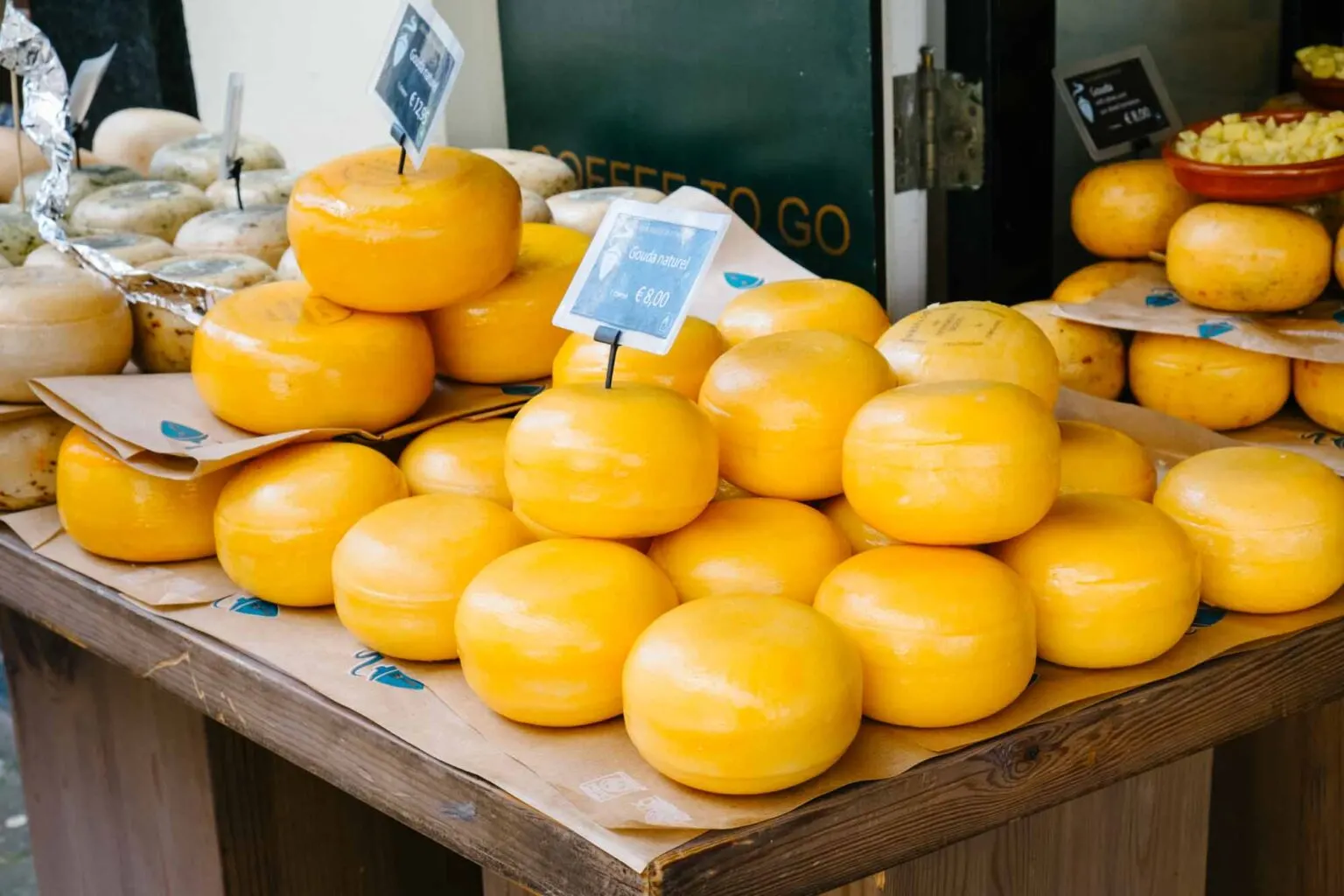 Perhaps one of my favorites markets in Amsterdam, the Pure Market is mainly about food, but you can also find entertainment, such as live music.
This place is a source of exceptional goods, artisan finds, Dutch and international produce, food, and creativity. But mind you, most stalls are food related.
Buy Gouda cheese or maybe an organic Dutch beer. Organic what?! Yes, they have a whole range of healthy and delicious products to try and gifts to bring back home.
7. Noordermarkt – Farmers Market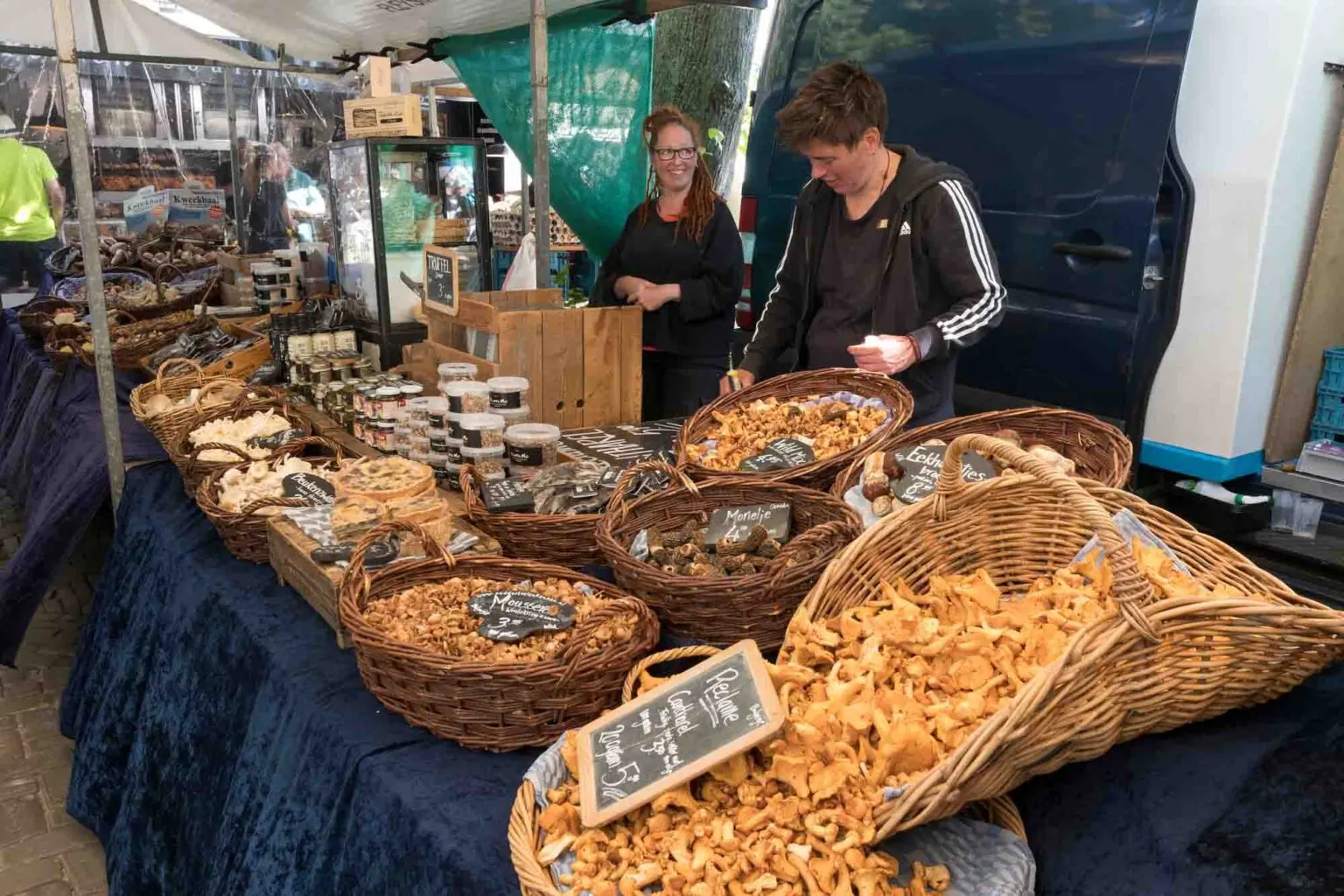 Variety of mushrooms at the Noordermarkt – Picture Partners / Shutterstock.com
Full of good local produce, the Noordermarkt is located in the hip neighborhood Jordaan.
It all started as a Farmer Market (Boerenmarkt), which it still is, but now, you can also find antiques, books, vintage clothing, jewelry, and collectable items.
This Farmer Market in Amsterdam has a bit of everything. Still, their specialty are fresh mushrooms collected not only in the Netherlands, but also in other European countries.
8. Spui Book Market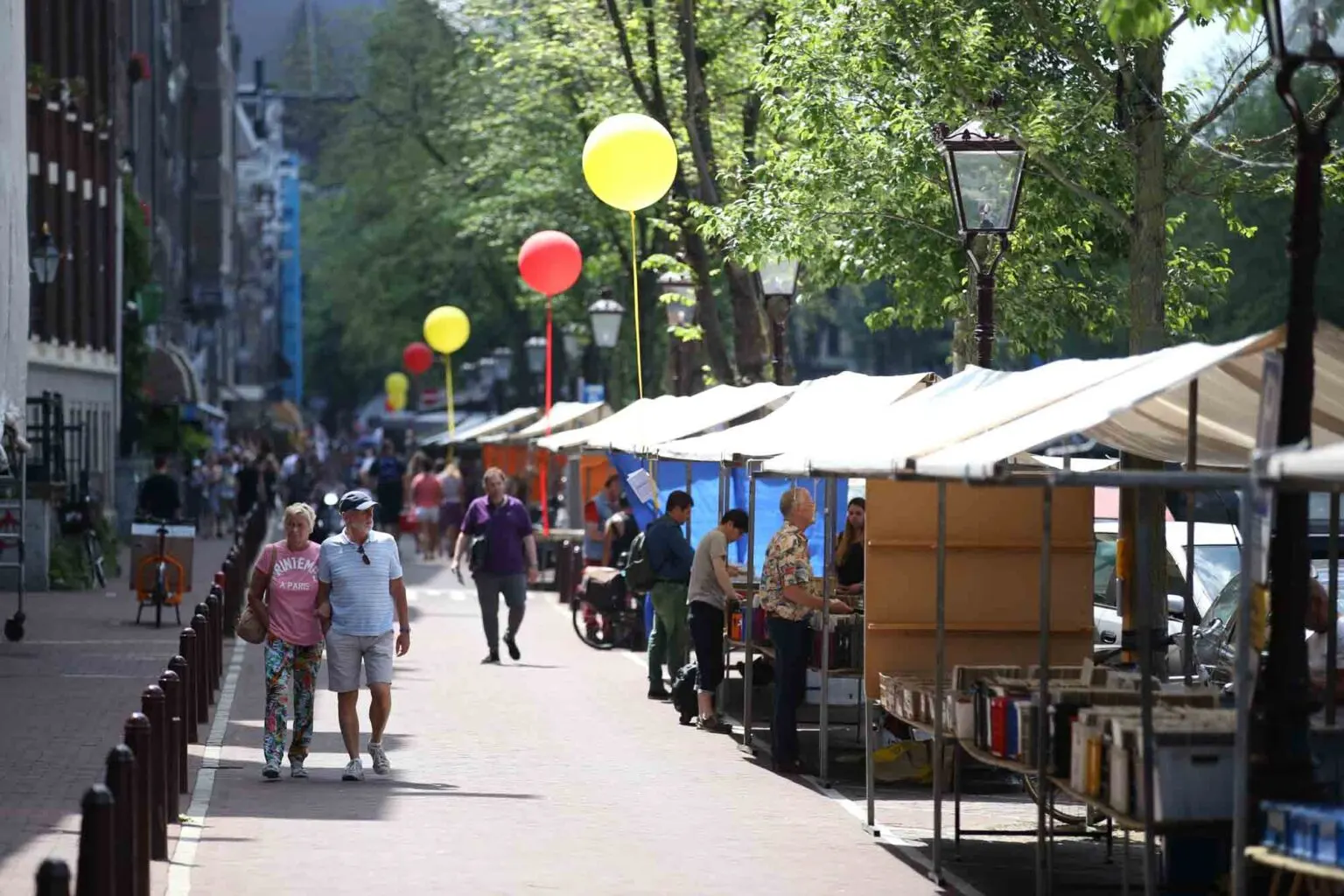 De Boeken Markt op Het Spui – Edwin Butter / Shutterstock.com
Selling antique and second-hands books, this book market in Amsterdam (De Boeken Markt op Het Spui) takes place every Friday at Spui Square.
The Spui Book Market is for bookworms and curious people who are browsing for their next exciting (or relaxing) read.
On top of that, you'll also find old documents, magazines, prints, posters, periodicals, and pamphlets in Dutch, English, French, and German at this Amsterdam market.
Browse around this old-fashioned market which has been functioning for over 30 years.
9. Nieuwmarkt Market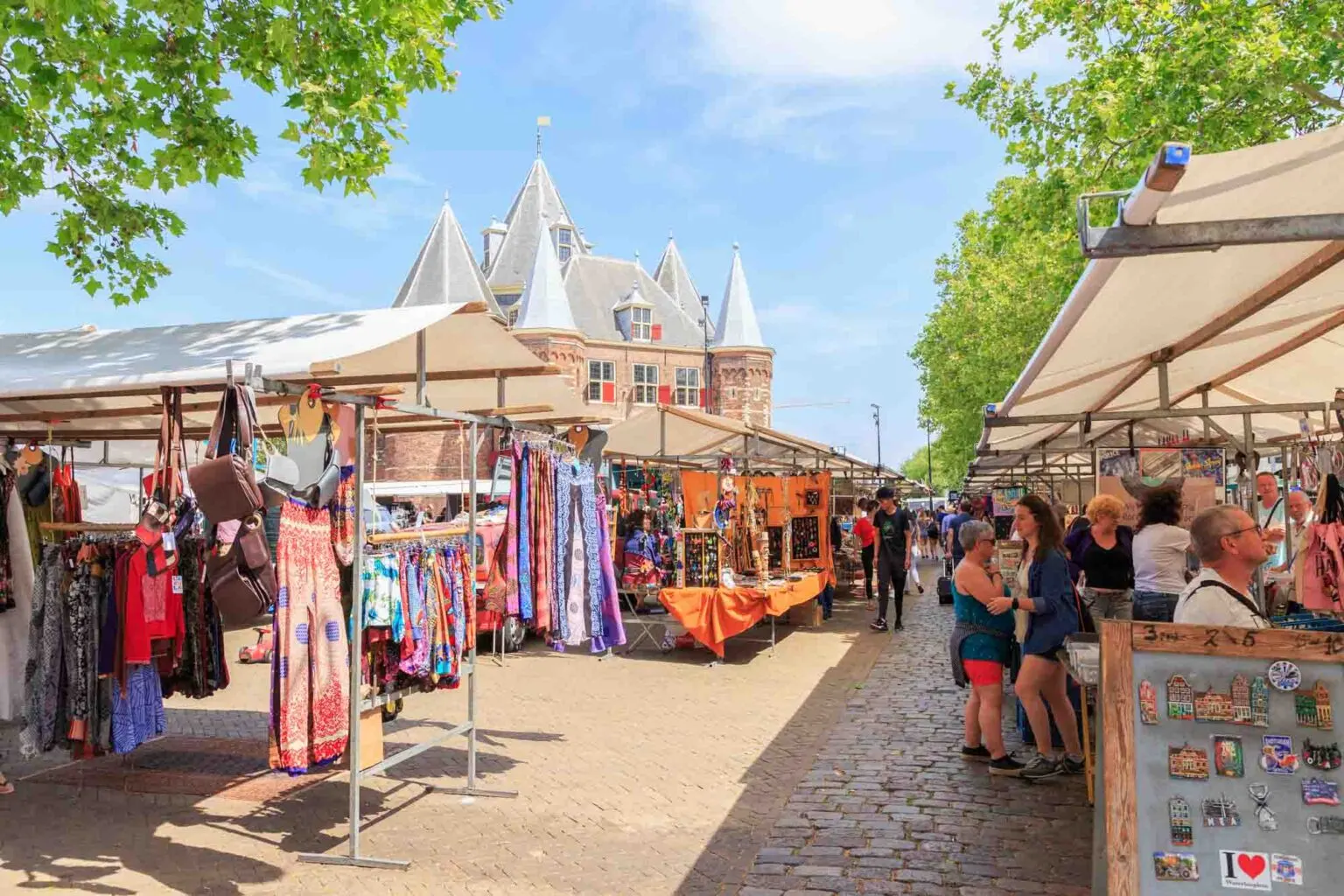 Nieuwmarkt in Amsterdam
Although you can find vendor almost every day, the Nieuwmarkt Market in Amsterdam comes to life at the weekends when the farmer's market happens.
From local produce to jewelry and antiques, you can find pretty much anything you would like.
After strolling through this Amsterdam market, stop at one of the cafés or restaurants in the Nieuwmarkt Square to sip your favorite beverage while you do some people watching.
10. Waterlooplein Flea Market in Amsterdam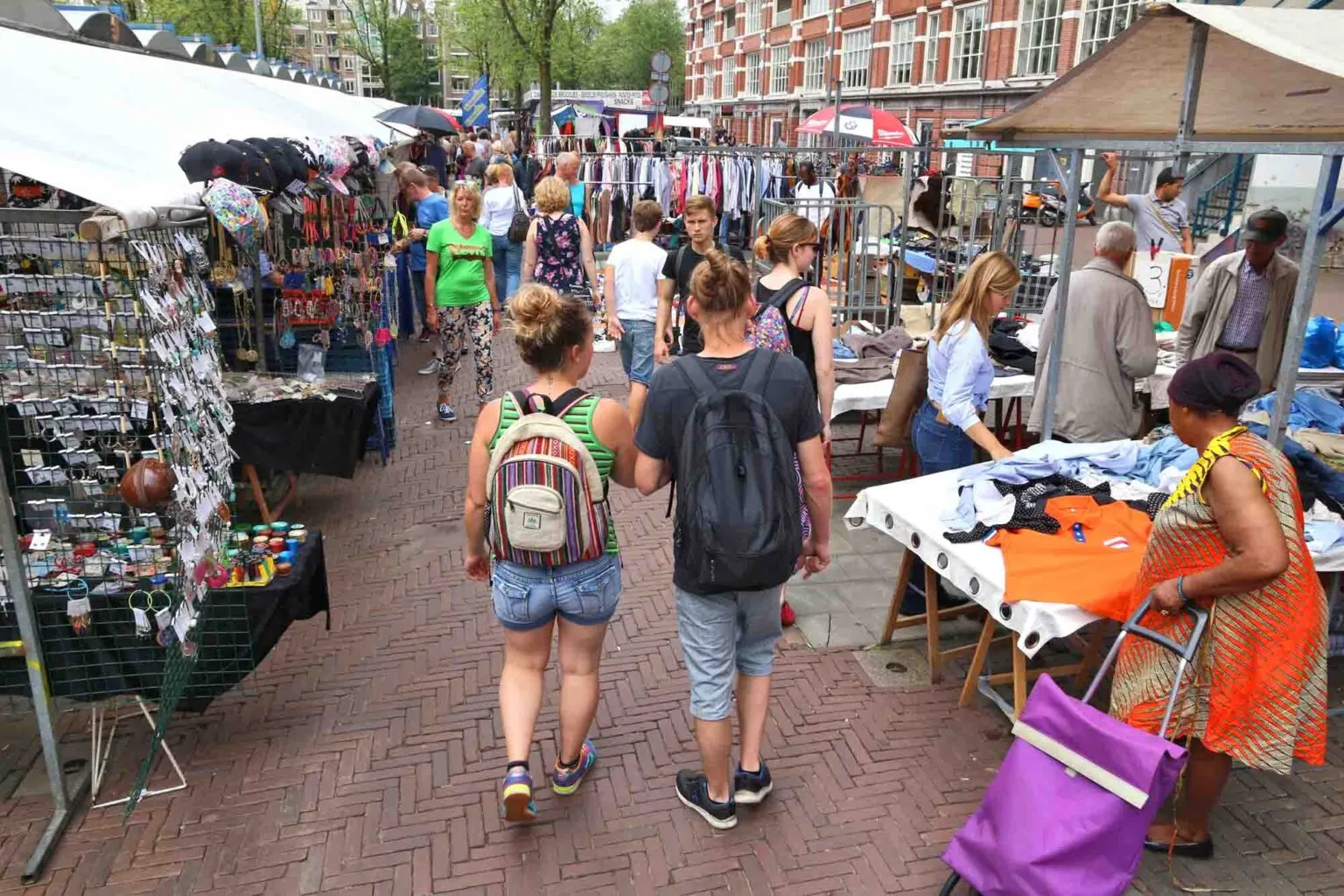 Waterlooplein Market
Amsterdam's oldest market hosts stalls that sell books, second-hand goods and clothes, souvenirs, vintage decoration, and food. In other words, everything.
Most part of it is good stuff, but you'll also find some touristy crap.
The Waterlooplein Flea Market in Amsterdam is much more focused on locals than on tourists though. For instance, I only found Dutch books when I went there.
If you want to have a local feeling in a street market in Amsterdam, this is the place!
Map of Amsterdam Markets
To help you easily find these Amsterdam markets during your trip, I created a handy map that you can open on your phone.
So, which of these markets in Amsterdam piques your interest the most? Would you add another market to this list? 
Source by mapsnbags.com